Members of the 'Silent' Aircraft Community are working together, sharing knowledge and developing the design for an aircraft that has noise reduction and low fuel burn as its primary considerations.
There has been continuous industry / government involvement from first day of project at strategic and working levels helping to:
Prioritise research items and focus on key issues
Make decisions as a multi-disciplinary team
Provide continuous support with tools and knowledge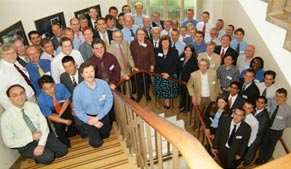 Partners include:
BAA
Boeing
Bruel & Kjaer (B&K)
Civil Aviation Authority (CAA)
Cranfield University
DHL
easyJet
ecotec
HACAN
ITP
Lochard
Lufthansa Cargo
Luton Airport
Marshall Aerospace
Met Office
National Air Traffic Services (NATS)
Nottingham East Midlands Airport (NEMA)
Rolls-Royce plc
United Parcel Service (UPS)
Wyle Labs
These partners have provided access to industry software tools, and have been involved in reviews of the emerging designs.
In addition to the KIC, other research collaborators include Georgia Institute of Technology, KTH Sweden, ISVR at the University of Southampton, NASA and NLR.